Fusion & Genesis PPV List!
-Battlescars
-Anarchy Rulz
-Retaliation
-Requiem
-Exodus
-CyberSlam
-Tag Team Cup
-Validation
-Dark Carnival
-Point Break
-Regicide
-Wild Card
-Absolution
-Emergence
-Home Coming
-Cause & Effect
-Final Resolution
-Purgatory
-Ascendance
Page 1 of 3 • 1, 2, 3

Who would you like to see take on Headhunter in this week's Genesis main event?
Monday night Fusion: Episode 50!
LIVE from the Gateway Arena in Sioux City, Iowa!!!Battle Scars card thus far!
(Subject to change.)
-Kendall Wolfe (c) vs. JustIN Sane for the CMV Undisputed World Heavyweight championship!
-The Money in The Bank Ladder match! Featuring: Duo Maxwell, Nick Blake, Elijah Stewart, ???, ??? & ???
-Casey Wilson vs. Jade Divine (c) for the CMV Vixens championship!
-WEB vs. Hayden, Sushi-X & Quantum in a Clean Slate match!
-Vixens Fatal-4-Way Ladder match! Featuring: ???, ???, ??? & Kitty Quinn-Belle
-Vicious & Delicious vs. The Blood Brothers [PRE-SHOW!]

----- ----- ----- ----- -----
Kicking off what is sure to be a wild and crazy night just three weeks away from the second annual Battle Scars event, Monday night Fusion turns fifty and it's superstars and Vixens plan on tearing the roof off of this place! After pinning and eliminating The Fast & The Furious from the Tornado Tag Team Turmoil match at Ascendance IV, WEB have the opportunity tonight to walk out as double champions, Bob Storm and Furious Frank not ones to flake when they make a promise. But will they be able to slow down this cancerous group before it eventually consumes CMV as a whole; or will they just become two more victims?
Seeking to make an impact upon his return to CMV, veteran to the squared circle, Ace Stephens, thought it'd be wise to target the biggest and baddest motherfucker this company has ever seen; Bison The Barbarian! The same man who crushed him nearly three years ago to claim the International championship, an event that The Joker clearly hasn't forgotten. Out for revenge and to prove that he's as better as ever, Stephens must come face to face with fear itself, but will he come out the same man . . . Or at all?
Following general manager, Johnny Sampson's, huge announcement that at Battle Scars the Vixens would be partaking in their own version of the Money in the Bank ladder match, the entire CMV universe is waiting with baited breath to see which three women he'll select to join Kitty Quinn-Belle in the historic bout. Tonight, our curiosity will be quenched, when Megan Cooper and Aura shackle up to take on X-Gen's, Cass LaFave, and her returning arch-rival, Amber Briggs, the winning team earning their chance to take one step closer to claiming the Vixens championship!
Money in The Bank qualifying match!With only three spots left to be claimed in the fifth annual Money in The Bank ladder match at Battle Scars, we'll witness a rematch from last month between the longest reigning Light Heavyweight champion of all time, Andrew Briggs, and the longest reigning Anarchy champion of all time, Jacob Ziegler! But those accomplishments are in the past, it's time for these two competitors to begin focusing on the future, and certainly the opportunity to cash-in for an Undisputed World Heavyweight title match whenever you want, ain't such a bad place to start.
Taking the journey once more into singles action, one-half of the beloved Bromancers, Sam Valentine, has the biggest match of his entire career scheduled for tonight's episode fifty extravaganza, when he goes one on one with the newly crowned king of CMV, the Undisputed World Heavyweight champion, Kendall Wolfe! In the pursuit to be the greatest World champion that this planet has ever seen, Wolfe cannot afford a loss in his first night as the top dog, but as we've seen from The Dream before, he's not one to be taken lightly.
The highly anticipated debut of former UnMatched competitor and Women's Intercontinental champion, Rose Punish, goes down here in tonight's co-main event, as the disgruntled sister of the one and only Marko Punish, seeks to make good on her word to prove just how pathetic the Vixens division is here on Fusion and Genesis, when she ties up with the always energetic, Danielle Ward.
Money in The Bank qualifying match!A contest that the CMV universe has been clamoring for finally sees fruition here in the main event of the big fiftieth birthday party of Monday night Fusion, when frenemies and fan favorites, Chris Andrews and Tim LaFave, go head to head. Although the International title belt isn't up for grabs, something even more grand than that is on the line, a chance to enter into the Money in The Bank ladder match at Battle Scars and compete for the right to challenge whomever the current Undisputed champion may be, any time, anywhere. This type of opportunity is what every single CMV superstar and Vixen competes for, but tonight, it's only The Bloody Brit and old Timmy boy in that ring, face to face, and only one of them can capture that brass ring . . .

ALSO, on this week's CMV.com exclusive Live Event:

-Nailz vs. Hans Von Braun
-Ally Cage vs. Riley Dixon
-Jay Davis vs. Troy Meyers (No Holds Barred)
Last edited by Mr. Dashing on Sun Jul 31, 2016 3:49 pm; edited 1 time in total
_________________
1x CMV Anarchy champion
1x CMV Tag Team champion
Bludgeon
1x Mr. Money in The Bank, 2x World Heavyweight Champion, 1x United States champion, Glammy award for Feud of the Year, Glammy Award for Heel of the Year
Xander Slate
Admin





Posts

: 4346


Join date

: 2015-03-08


Age

: 20


Location

: The Hood


Humor

: Knock knock!



"King of CMV" Hahahaha.

Not even close. I'll never be the top guy, no matter if I'm holding the title or not. Now, predictions:

WEB
Bison
LaFave/Briggs
Ziegler
Wolfe
Punish
Andrews
Dashing, thank you for ignoring my message.
_________________
Accomplishments :

2018 Heel of the Year as Schmidty
2018 Newcomer of the Year as Schmidty
2018 Face of the Year as Bob Luger
2018 Promoer of the Year
1x European Champion as Schmidty
2x United States Champion as Schmidty
1x Undisputed Champion as Schmidty
1x Alpha World Champion as Bob Luger
1x Tag Team Champion as Murdoc
1x Tag Team Champion as Freddy Osborne
1x Dashing's ride or die chick
Main Event Star!





Posts

: 3412


Join date

: 2015-09-19


Age

: 21



So if WEB become double title holders do they put both titles up in the clean slate match?

Midcard Playboy





Posts

: 235


Join date

: 2015-12-21



Valentine hungry for that gold. Gonna show the world that Wolfe shouldn't be champ.
_________________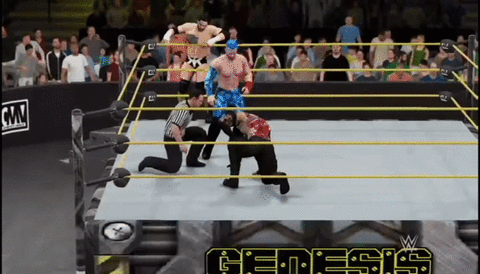 Main Event Star!





Posts

: 622


Join date

: 2015-04-06



_________________
Main Event Star!





Posts

: 2697


Join date

: 2015-03-09



Like half the roster have showed that Wolfe shouldn't be champ. Second royal rumble this time for the damn belt, let's do it.
_________________
༼ つ ◕_◕ ༽つ C9 TAKE MY ENERGY ༼ つ ◕_◕ ༽つ
GT: Alveuss
(I may or may not add you back)
Jacob Ziegler
- 2x Anarchy Champion, 1x Mr Money in the Bank, 1x BFF of Shane Scott, 2017 Newcomer of the Year
Rubik
- 1x Light Heavyweight Champion
Main Event Star!





Posts

: 1132


Join date

: 2015-11-29


Age

: 21


Location

: Glasgow, Scotland


Humor

: Roman Reigns' theme but every DUNNUN is replaced with BANNON



Admin





Posts

: 4346


Join date

: 2015-03-08


Age

: 20


Location

: The Hood


Humor

: Knock knock!



_________________
Accomplishments :

2018 Heel of the Year as Schmidty
2018 Newcomer of the Year as Schmidty
2018 Face of the Year as Bob Luger
2018 Promoer of the Year
1x European Champion as Schmidty
2x United States Champion as Schmidty
1x Undisputed Champion as Schmidty
1x Alpha World Champion as Bob Luger
1x Tag Team Champion as Murdoc
1x Tag Team Champion as Freddy Osborne
1x Dashing's ride or die chick
Main Event Star!





Posts

: 3412


Join date

: 2015-09-19


Age

: 21



Page 1 of 3 • 1, 2, 3

---
Permissions in this forum:
You
cannot
reply to topics in this forum