Fusion & Genesis PPV List!
-Battlescars
-Anarchy Rulz
-Retaliation
-Deathwish
-Requiem
-Exodus
-Validation
-Sacrifice
-CyberSlam
-Dark Carnival
-Point Break
-Regicide
-Wild Card
-Absolution
-Emergence
-Home Coming
-Cause & Effect
-Final Stand
-Purgatory
-Ascendance
Quick Links!
Dashing's Stuff!
Cop's Stuff!
CMV Network!
Social Media!
Site Threads!

Following Anon One's big upset vs the debuting Brock Samuels:

Samuels rises in astonishment, smiling a smile almost as big as he is. He looks to Anon One, who managed to squeeze a win out. Samuels knows who is behind the mask, everyone does. It's no surprise.
The man behind the mask has a knack of coming from behind with some incredible upsets. His size, and apparent fragility requires any win to be an upset.

Samuels looked like he was having fun, and though surprised by the loss, he extends his hand with a smile to show friendliness and sportsmanship.

Anon One seems to freeze for a moment... Like He doesn't know what to do. He almost extends the hand as the fans are raging...

But then... The music hits...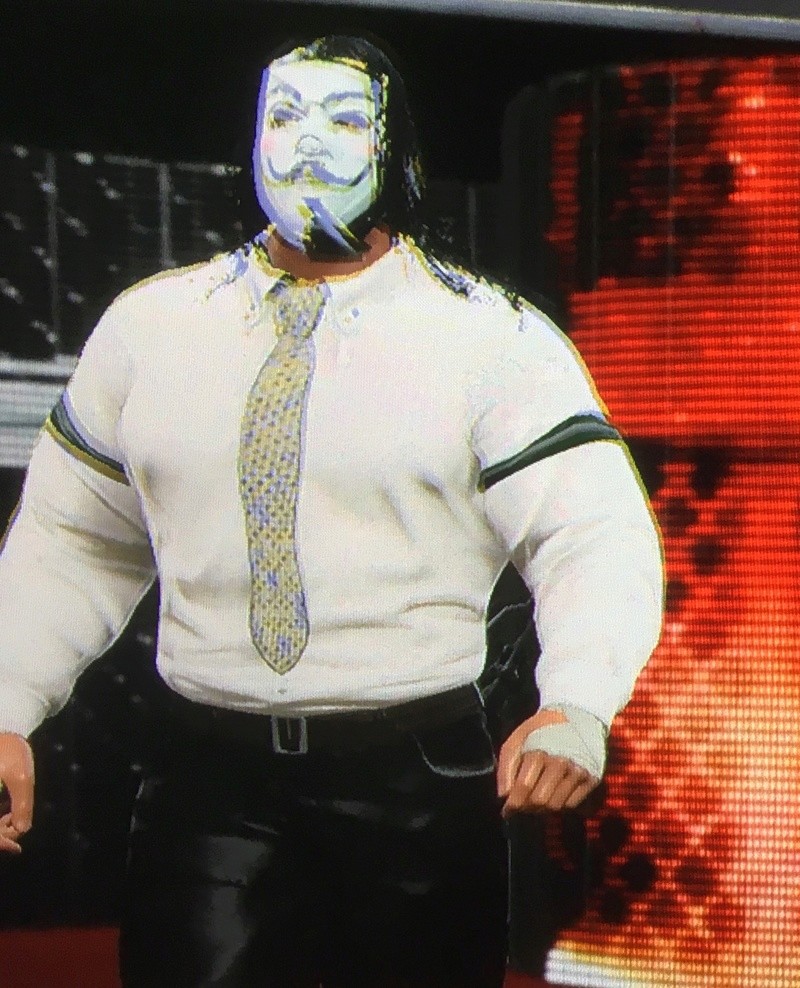 The Goliath emerges and makes his way to the ring to everyone's astonishment. He slides in the ring... And stares down the other big guy, who's still looking for a handshake.

The Phantom doesn't react... He isn't Reactive, he's Proactive...

He turns to Anon One and clasps his hands on his throat, lifts him up and slams him down with a choke slam!!!!

Samuels is beside himself.

The Phantom pulls The One out of the ring by his foot, and drags him up to the ramp and disappears behind the curtain.
Main Event Star!





Posts

: 776


Join date

: 2015-03-27



Just as the show goes on air, we see footage of Annonymous back stage, in some dark room with a computer in the background.


He peers into the camera through the mask. In the background, Annonymous is also seen...


The Goliath speaks, "Brock Samuels, although you lost the match vs Annonymous... You seem to get a new start. A fresh start... It's almost as if We are Here to give all of us a fresh start.


So with your New Beginning... What will you make of it? All of Us have a new beginning... Every day. You get two, today. So with your New Two, will you become One? As he has?"


Annonymous looks over his shoulder to Annonymous, " Or will you become..."  (Eyes back into the camera) "NoOne?"
Main Event Star!





Posts

: 776


Join date

: 2015-03-27




---
Permissions in this forum:
You
cannot
reply to topics in this forum